Bernie is a criminal Tech Deck Dude. He wears red hair, a black cap, sneakers,
and pants, and a striped shirt with a black mask.
In the Zoods series, Bernie's zood is Filch.
Bernie's Profile listed as is on the back of his case.
Name: Bernie
Occupation: Bank Robber
Home State: Kentucky
Hobbies: Robbery
Education: Never went to college.
Favorite Food: Tortilla Chips and salsa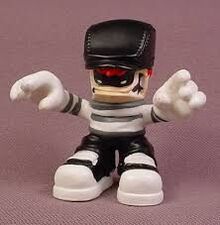 Favorite Movie: Get Rich or Die Tryin'
Favorite TV Show: Ridiculousness
Favorite Band: Gorillaz