Dr. Digit P.I. is an undercover/investigator type Tech Deck Dude. He has a huge afro and wears no type of clothing. He wears sunglasses and a pair of tennis shoes.
His afro seems to resemble the likeliness of a black golf ball.
He could be based off of Micheal Jackson, Due to the fact that his new form's skin is white.
Dr. Digit P.I.'s Profile is as followed on his case:
Name: James Digit
Occupation: Private Investigator
Home Town: Chicago, IL
Hobbies: Skateboarding, Meditation
Education: P.H.D. in Psychology
Favorite Food: Italian
Favorite Movie: Shaft
Favorite Musician: Isaac Hayes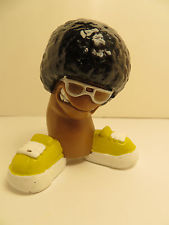 Ad blocker interference detected!
Wikia is a free-to-use site that makes money from advertising. We have a modified experience for viewers using ad blockers

Wikia is not accessible if you've made further modifications. Remove the custom ad blocker rule(s) and the page will load as expected.