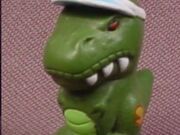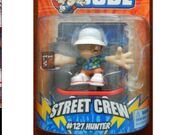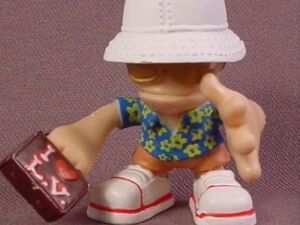 Hunter is a dude who likes to go to Las Vegas. He has a white hat, gold glasses, flower shirt, and normal shoes. He came with a zood and has a suit case.
Information:
He likes a vacation
Probably a reference to Hunter S. Thompson from Fear and Loathing in Las Vegas.
Hunter and his attire are based off famous Gonzo Journalist Hunter S. Thompson as he is portrayed by Actor Johnny Depp in the film Fear and Loathing in Las Vegas.
His briefcase's initials stand for "I love Las Vegas."
Hunter's little Tyrannosaurus Rex Zood, "Gonze", is dressed like one of the Hotel Lounge Lizards/prehistoric dinosaur hallucinations that he experienced in the film during his use of the drug "Sunshine Acid."
His Zood's name, "Gonze", is a reference to Gonzo Journalism, the form of journalistic writing style that Thompson is famous for creating, using, and popularizing.