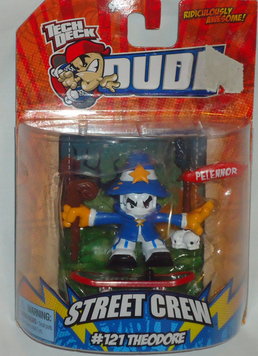 Street Crew is a line of Tech Deck Dude figures. It was released in 2009, and replaced the Zoods line. These come with puzzle like sidewalk tiles that can be used to display your Dudes. This brand rereleased rare and obscure Dudes such as Bonz, Simon, and the super rare Ultimate Zero.
All of the brand new Dudes in the brand came with the street pieces, while classic Dudes came with extra accessories instead. All Dudes had a hole in their backs to plug in to the included stand. 
There was a change in packaging after Street Crew 1. The packaging seen then was much like the Zoods packaging.
After Street Crew 2, Magna Dudes were discontinued, and all Dudes were released without magnets.
Ad blocker interference detected!
Wikia is a free-to-use site that makes money from advertising. We have a modified experience for viewers using ad blockers

Wikia is not accessible if you've made further modifications. Remove the custom ad blocker rule(s) and the page will load as expected.