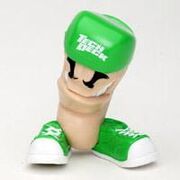 Tech Deck Dudes are armless, skateboarding thumbs. They each have their own skateboard that can range from red, blue, green, ect. Some boards even have different wheel colors such as a gray board with red wheels. Each Tech Deck Dude can either come with or without objects attached to them. Some may have hats and some may come with objects on their side, such as the cop,
Barney
comes with a nitestick and a doughnut. Tech Deck Dudes have changed over the years. Now they come with arms and objects in their hands. An example would be
Duke
, the sheriff. He comes with a pop gun in his hand.

They also each have their own specific number for easy identification.
Ad blocker interference detected!
Wikia is a free-to-use site that makes money from advertising. We have a modified experience for viewers using ad blockers

Wikia is not accessible if you've made further modifications. Remove the custom ad blocker rule(s) and the page will load as expected.