Tek is a Tech Deck Dude who is supposedly a robot. He can be seen having skin under the robot suit.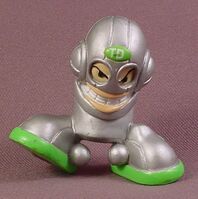 Tek has the initials "TD" on his suit for "Tech Deck".
After the original series, Tek's design is completely different and he resembles more of a robot.
Tek has a different shaped mouth compared to most Tech Decks.
Tek's profile is shown in the back of his case:
Name: Tek
Occupation: Mechanic
Hometown: Detroit
Hobbies: Skateboarding, Being a robot
Education: Murray's house of salvage
Favourite celebrity: Johnny 5
Favourite saying: "11100101"